Дополняю фотографией Маши. Она еще и красавица.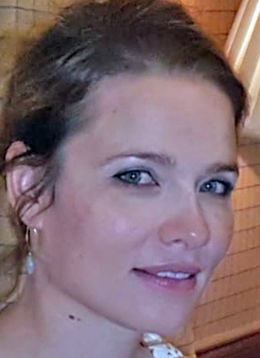 They removed it not long after Maria Rutenburg, a real-estate lawyer, requested that she be allowed to paint "MAGA 2020," Trump's reelection campaign slogan, on the same street.

"I saw 'Black Lives Matter' sign appearing on Broadway Street, on the asphalt. I figured that's going to be a new public space open for discussion, and I wanted to get my message out too," Rutenburg told the local CBS station.
Они удалили его вскоре после того, как Мария Рутенбург, адвокат по недвижимости, попросила, чтобы ей разрешили нарисовать на той же улице лозунг кампании Трампа «MAGA 2020».

«Я увидела надпись «Black Lives Matter», появившуюся на Бродвей-стрит, на асфальте. Я подумал, что это будет новое публичное пространство, открытое для обсуждения, и я тоже хотел выложить свое сообщение», - сказал Рутенбург местной станции CBS.
Я был уверен, что это наша Маша, а не какая-нибудь латиноамериканская Мария с еврейской фамилией.
Но все-таки кое-какие сомнения были. Поискал и нашел пост Маши в группе ФБ, которая называется:
https://www.facebook.com/groups/RussianJewishBayArea
Russian Jewish Bay Area [San Jose San Francisco Silicon Valley Peninsula]
Так что это действительно НАША МАША!