Что за комиссия, Создатель...
( "Горе от ума" Грибоедов)


Нельзя сказать, что у сан-францисcкой комиссии по истории и искусству горе от ума. Ума у отцов города Сан-Франциско уже давно не наблюдается.
Они проголосовали за снос памятника пионерам, который называется "Early days".
Снести памятник потребовали индейцы, как расистский.
https://www.sfchronicle.com/bayarea/article/San-Francisco-board-votes-to-remove-statue-13225683.php
San Francisco board votes to remove 'Early Days' statue showing fallen American Indian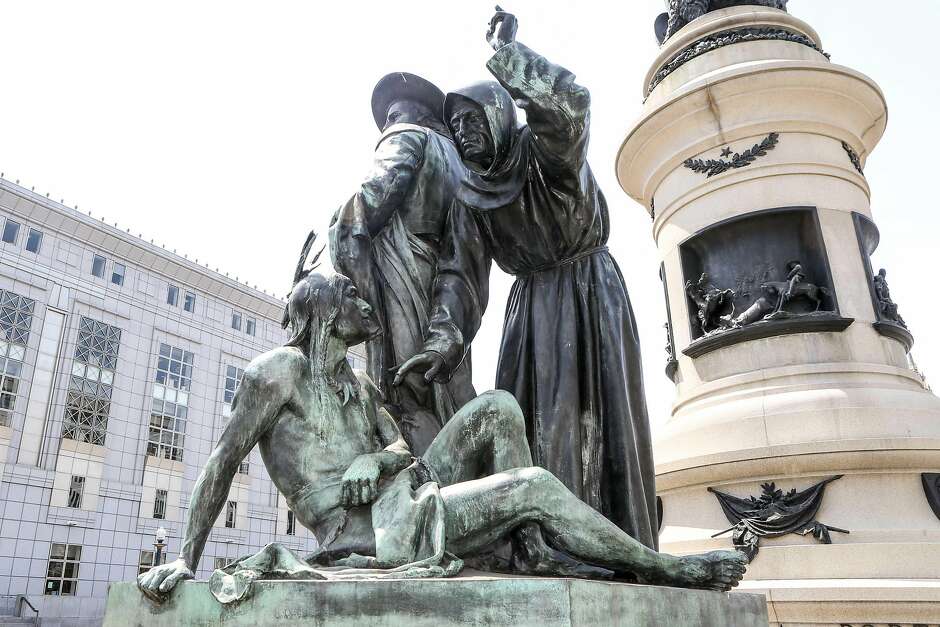 Что творят, расисты проклятые!

A controversial sculpture in San Francisco's Civic Center depicting a vaquero and a missionary standing over a fallen and nearly naked American Indian could be coming down as early as next week following a unanimous vote by the city's Board of Appeals Wednesday night.

The vote reverses the board's earlier decision and bookends a decades-long fight to remove what some critics have called a racist emblem of California's past.
San Francisco's Arts Commission and Historic Preservation Commission had both signed off on a proposal to remove the "Early Days" statue and put it into storage. But the plan was frozen after an appeal was filed by Frear Stephen Schmid, an attorney in Petaluma. Schmid argued that neither commission had the authority to remove the sculpture and that the decision was inconsistent with the city's standards for removing or altering historic artifacts.

"This has been a tough 30-plus years. But this is wonderful," said Dee Dee Ybarra, an Ohlone tribal leader who urged the commissioners to remove the statue.

("Это прекрасное решение. Момумент нас напрягал больше тридцати лет", сказал Ди Ди Ибарра, вождь племени Олони, соглашаясь с решением комисcии снести статую.

(Олони — индейское племя, проживавшее в районе залива Сан-Франциско и залива Монтерей с VI века, расселяясь далее на юг в долину Салинас, существовало более 50 отдельных поселений олони)

UPDATE:
А наш бостонский индеец - на коне. Мы - не расисты какие-нить, и поэтому нашего индейца никто не требует снести.

(Написал и подумал, а как же защитники прав лошадей, они могут, зачем индеец лошадку мучает?)