Каждый день появляется новая девушка, которая его обвиняет в домогательствах, когда она была юной и свежей нимфой.
Ниже про одну из нимф.

Краткое содержание первой и второй серии.
Сначала сравнительно молодая девушка, Беверли Нельсон, ей еще нет шестидесяти, рассказала, что Рой Мор ее пытался изнасиловать, когда ей было всего 16 годков.
В качестве доказательства, она показала подпись Роя Мора в своей Year Book (это альбом школьных фотографий), где он сопроводил эту подпись словами "с любовью".
Сначала вы можете видеть доказательство, подпись Роя Мора в ее школьном альбоме.
Но сегодня выяснилось, что это чудеса фотошопа. Девушка или те, кто ей помогал, скопировали подпись Роя Мора с документов по бракоразводному процессу Беверли Нельсон, где Рой Мор был судьёй.
Дальше обе серии на английском:
1-я серия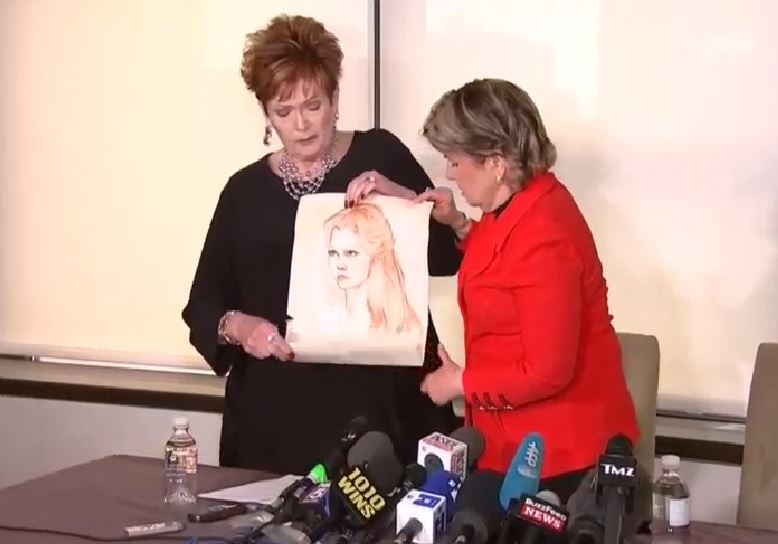 Беверли Нельсон (слева) показывает журналюгам, какой она была красоткой в 16.



As evidence of their relationship, Nelson presented a page of her yearbook that Moore asked to sign during one of his earlier visits to the restaurant.

Moore's message read, "To a sweeter more beautiful girl I could not say, 'Merry Christmas.' Love, Roy Moore DA, 12-22-77, Olde Hickory House."

As Business Insider's Josh Barro pointed out, Moore's signature in the yearbook matches his signature on his US term limits pledge this year.

Nelson was one of several women who have come forward in recent days accusing Moore of sexual misconduct when they were teenagers and he was an adult.



2-я серия
Court documents show key claim made by Roy Moore's attorney was a lie
Moore's attorney held the press conference to attack the credibility of an accuser.
At a press conference Wednesday afternoon, attorneys for Alabama Senate candidate Roy Moore (R) attempted to refute sexual assault accusations made earlier this week by Beverly Young Nelson. In addition to challenging the yearbook signature, attorney Phillip Jauregui also suggested Nelson was not credible because she said she had no contact with Moore. Jauregui claimed that Nelson had contact with Moore when he presided over her divorce case in 1999. The documentation of that divorce proceeding, however, undermines this claim.
"As it turns out, in 1999, Ms. Nelson filed a divorce action against her then-husband, Mr. Harris," Jauregui said Wednesday. "Guess who that case was before? It was filed in Etowah County, and the judge assigned was Roy S. Moore, circuit judge of Etowah County. There was contact."
There was not contact.
The details of the case were first exposed by a pseudonymous Twitter account, which dug up the documents from that divorce action. ThinkProgress independently verified the full, unredacted case file, which shows there was no occasion for Moore and Nelson to cross paths. The case was dismissed shortly after it was filed as Nelson and her husband attempted to reconcile.
The documents do show that Nelson, then Beverly Harris, filed a divorce action against her then-husband in May of 1999. All of the initial documents, however, were signed by a different district judge, W. D. Russell. On May 25, 1999, Judge Russell scheduled the first hearing for the case for June 16.
But that hearing never took place. In June, before the scheduled hearing was set to take place, she filed for a motion to "continue" (delay) the hearing because she and her husband "are going to counseling and are attempting to reconcile."
A month later, she filed a motion to dismiss the case. That appears to be the only document Moore signed, and given there was no hearing, there is no reason the divorce action would have required her to enter the courthouse or have contact with Moore.
Moore's attorney acknowledged that he didn't even personally sign this document. Rather, it was a routine filing where his name was stamped by an assistant. Nelson did eventually file for divorce again, but it was five years later, and a different judge, District Judge Donald W. Stewart, oversaw and signed the final divorce papers.
The only explanation for Jauregui claiming "there was contact" between Moore and Nelson because of this divorce action is to undermine Nelson's credibility. In doing so, he only further undermined Moore's.